Basic Nutrition for Junior and Age group swimmers

Use whole plate model!
Every day:
• Grain products bread etc. (carbohydrates, fibers)
• Chicken, meat, fish, egg (Proteins)
• Vegetables, fruits (vitamins, minerals etc.)
• Rise, potatoes, pasta (carbs.)
• Milk products (proteins and calcium)
• Fats
Basic food pyramid: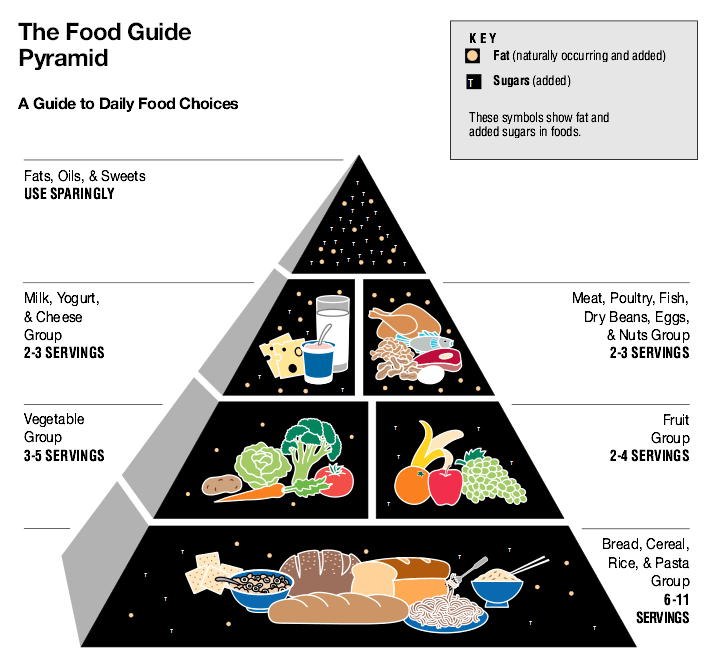 Plate model for swimmers: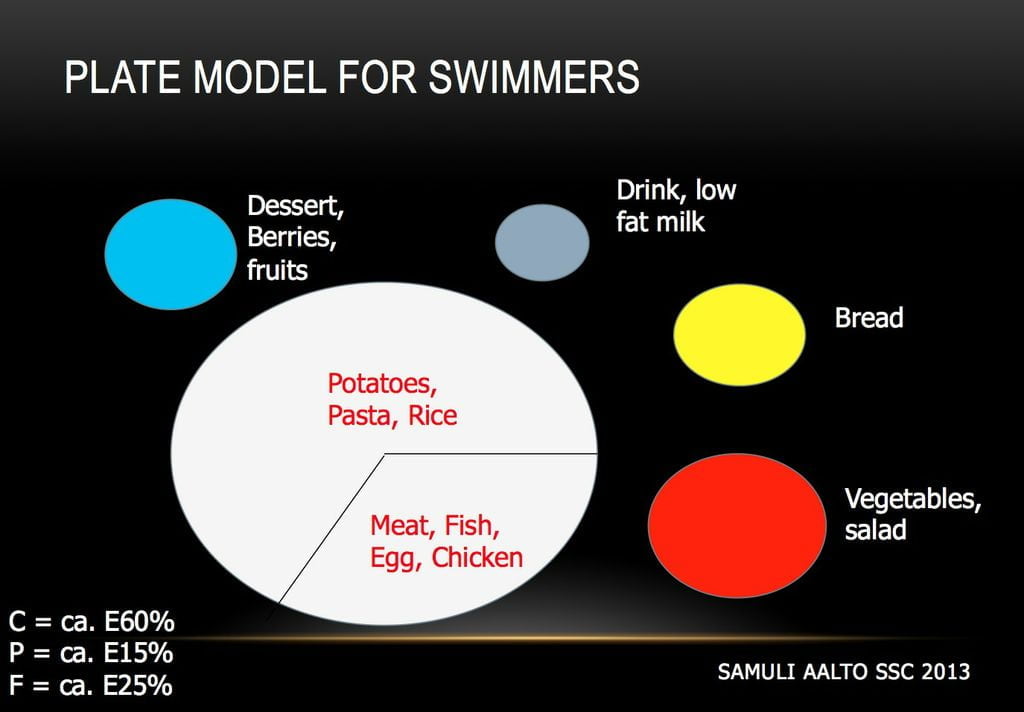 Why?
Carbohydrates:
• Most important energy source
• Fastest fuel
Proteins:
• Building material
• Repair muscles at recovery
• Too few proteins in food leads to catabolia
Fats:
• Biggest energy source
• Protect inner orgains and against cold
• Resource of neccessery fatty acids
• Transfer fat-solutable vitamins
Minerals, Vitamins and fibers:
• Health and immunity
• Lack of any protective nutrient leads to lower performance and weakening health
Eating rhythm:
• No more than 2-3h between meals (= 5-7 times/day)
• Combine dinners, school and training
– Breakfast before school
– Snack and lunch at school
– Heavy snack right after school
– Dinner before or after training
– After the training immediately snack/recovery food
– Supper if needed
Food before practice:
• Warm meal at least 2h before practice
• Not too heavy or greasy foods
• Not too much salads
• Lot of carbohydrates
• Enough liquids during the day
Food after practice:
• Immediately after practice: fruit, bread, recovery drink to start recovery process (30min window)
• Quality and energy rich meal no later than 1 hour after training. Lot of proteins.
• Even though training could finish late, you need to eat a lot to recover your body.
Example day:
• Breakfast 07.00
• Snack at school 09.30
• Lunch at school 12.00
• "Heavy" snack at home/school 14.00
• Training 16.15-19.00
• Immediate snack 19.01
• Dinner 19.30
• Supper 21.00-21.30
Drinking at training:
• 1-1½h practices water is enough
• 1½-3h practices mild juice or energy drinks
• Drinks have to be mild otherwise it don´t absorb in to your body
• Liquids need to be drunk 1-1½dl at time about 10-20 minutes between
• Too much liquids don´t absorb into the body
• Too few liquids causes cramps and fatique
Nutrition supplements:
• Iron supplements
• Multi vitamins (150-250%)
• Recovery drinks
Samuli